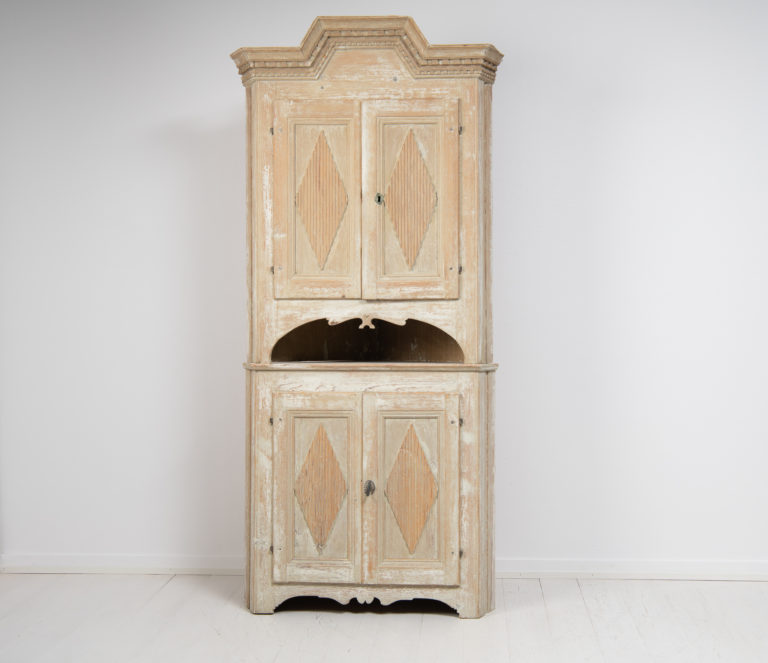 Elegant Gustavian Corner Cabinet from Northern Sweden
Art.nr: 1823
Height : 197 cm
Length : 78 cm
Width : 50 cm
Elegant gustavian corner cabinet from northern Sweden. The cabinet is classically gustavian with clean lines and careful proportions. Made around 1790 to 1800 in Swedish pine and dry scraped by hand down to the original paint. The surface is distressed and worn by age and so has the unique patina of time. This cabinet has very elegant proportions similarly great attention to detail. The high level of craftsmanship shows in the construction and meticulously hand carved decor that's found all over the cabinet. The centrepiece and obvious focal point of any room it's placed it, the cabinet draws attention with elegance as well as poise.
The cabinet is made in two parts with tasteful decor that's carved by hand. The decor is in the form of fluted diamonds on the doors and a multi layered border across the strong and angular pediment. It also has profiled short ends with flutes running the length of the cabinet. An extra detail is the delicate curve and carving on the border of the middle section as well as the bottom.
Healthy and solid frame with a stable construction. Working lock and key. The lower cabinet has doors with a latch. The interior is not painted and never has been so it has the authentic warm patina of aged pine. The two sides that would be facing the walls are both 62 cm wide. Across the front the cabinet is 78 cm.
For more Case Pieces and Storage
Price inquiry item number 1823 Elegant Gustavian Corner Cabinet from Northern Sweden
Inquiry form for Elegant Gustavian Corner Cabinet from Northern Sweden