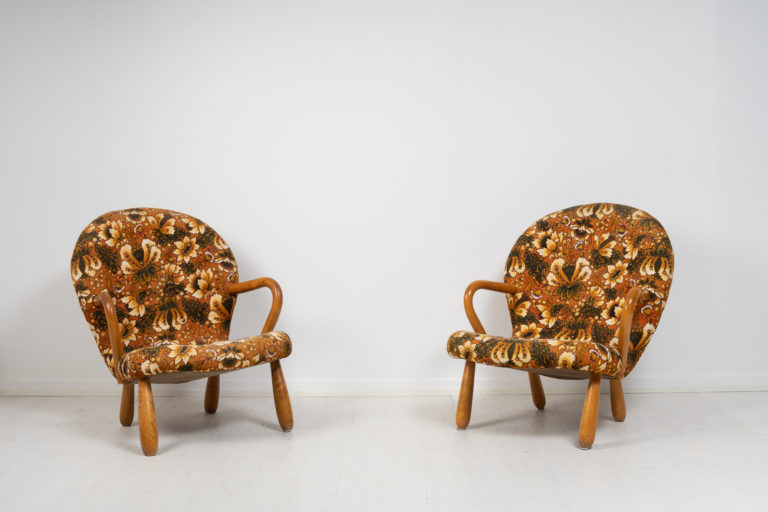 Mid-Century Modern Clam Chairs or Muslingestolar
Art.nr: 1860
Height : 85 / 35 cm
Length : 72 cm
Width : 80 cm
Mid-century modern Clam Chairs, or Muslingestolar are they are also known. The clam chairs are likely made by Sune Johansson Möbelfabrik in Nässjö in Sweden. The chairs are an authentic pair and have been together since the start. These two are a genuine vintage pair and made during the mid 20th century, 1950 to 1960. The current upholstery is likely the original fabric and it does has some marks of use and distress. The padding is slightly hard. The chairs have many of the characteristic of the Scandinavian modern design period while doing something completely unique which has made them known all over the world.
The person behind the design has been a mystery and a long tale. It was long believed to be Philip Arctander but based on current findings the general consensus is that the original designer is Arnold Madsen. The chair has been produced by a variety of furniture makers in the Scandinavian countries. In Norway by Vik & Blindheim, in Denmark by Nordisk Staal & Møbel Central and in Sweden by Sune Johanssons Möbelfabrik among others.
The clam chair, or muslingestolen, have become a modern icon with its rounded shapes and curved edges. The expression of the chair has become its trademark. It's also easy to see how it might have gained the name "Clam chair". With the rounded backrest and tilted seat it shares characteristics with its namesake while remaning tasteful and timeless. The proportions are carefully considered and no detail is left unattended. From the curve of the armrest to the exact width of the back. While it was popular from the start, today the Muslingestol is widely recognised and appreciated as a stunning example of Scandinavian modern design.
For more Retro Furniture
Price inquiry item number 1860 Mid-Century Modern Clam Chairs or Muslingestolar
Inquiry form for Mid-Century Modern Clam Chairs or Muslingestolar