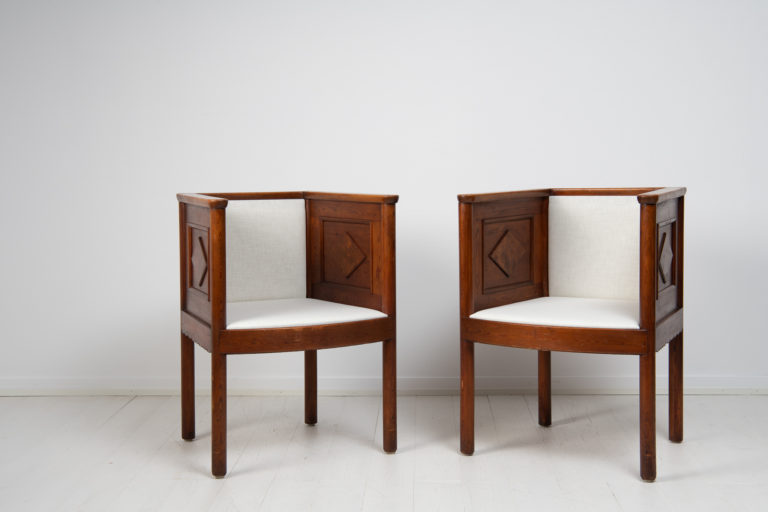 Armchairs in the Style of Axel Einar Hjorth
Art.nr: 1813
Höjd : 82 / 46 cm
Längd : 62 cm
Bredd : 57 cm
Armchairs in the style of Axel Einar Hjorth from Sweden. The armchairs are from the 1920s to 1930s and made in pine. The designer and maker of these are unknown however they are in the characteristic style of Axel Einar Hjorth. The chairs are a so called "sportstugemöbel" which literally translates to "sport cabin furniture" which was popularised in the 1920s and 1930s when vacations homes and cabins became more available to the general public in Sweden. The design of the furniture reflects the simple and modern lifestyle that followed the new time.
Axel Einar Hjorth pioneered the sportstugemöbel and is by far the most known for the style. The furniture are rustic but refined and all his designs are done with an expert eye for proportions and form. Hjorth's designs have gained international interest and are now sold for record prices to buyers all over the world.
These chairs are not by Axel Einar Hjorth but they are made in the same style and contemporary with his works. The pine is stained with acid and the cushions are loose and newly upholstered. Good vintage condition consistent with age, with some smaller marks and traces of use. The chairs are 62 cm wide at the front and narrows to 50 cm at the back.
Set of 6 chairs in the same series: Chairs in the Style of Axel Einar Hjorth
For more Retro Furniture
Prisförfrågan objekt nr 1813 Armchairs in the Style of Axel Einar Hjorth
Inquiry form for Armchairs in the Style of Axel Einar Hjorth