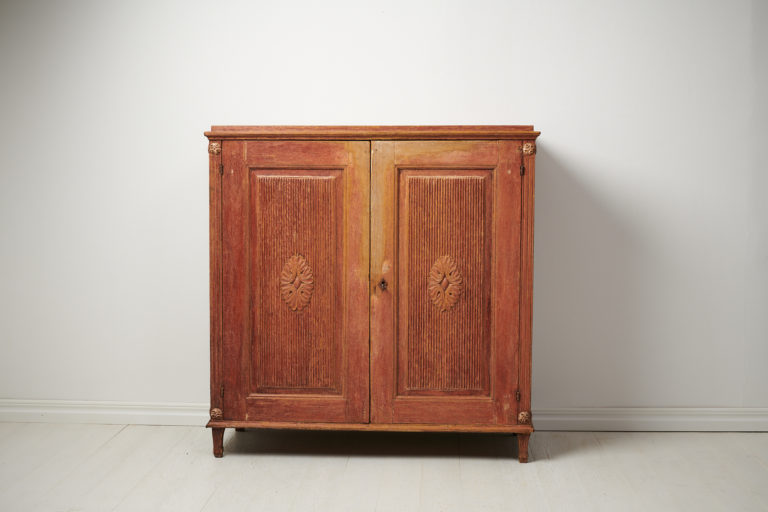 Rare Antique Gustavian Sideboard
Art.nr: 2011
Höjd : 123 cm
Längd : 121 cm
Bredd : 53 cm
Pris: Sold
Rare antique gustavian sideboard from Sweden made with all the classic gustavian features including some very special details. The sideboard is from around 1790 and made in painted pine. It has the authentic original paint with genuine distress and patina which shows off the details of the craftsmanship and allow the warmth of the pine to shine through.
The doors open to a charming interior with 3 levels of shelving and four small drawers. The drawers have a fluted decor which is unusual to see on the interior of a sideboard and the shelving is also unusual where the shelves are symmetrical. The doors have a similarly fluted decor with the addition of an intricate wood decoration that's been carved by hand.
The sideboard have straight corners with flutes running vertical all the way as well as small hand carved decorations to finish it off. It's notable how all three sides have been carefully decorated when it may usually be only the front. The lock and key are original and in working condition. The sideboard is an unusual untouched furniture which is almost 250 years old and it wears it's age well. The condition is good and there are some smaller traces and marks of use.
For more Case Pieces and Storage
Prisförfrågan objekt nr 2011 Rare Antique Gustavian Sideboard
Inquiry form for Rare Antique Gustavian Sideboard