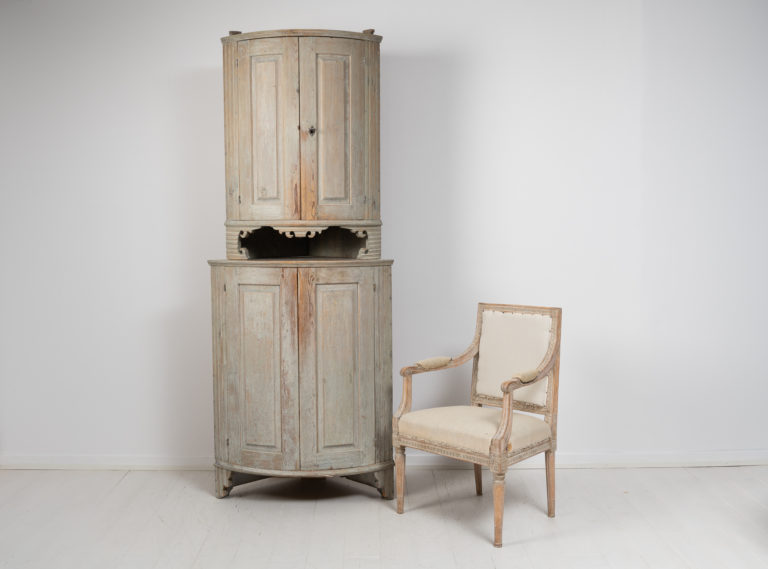 Tall Gustavian Corner Cabinet with Original Paint
Art.nr: 1830
Höjd : 209 cm
Längd : 108 cm
Bredd : 56 cm
Tall gustavian corner cabinet in two parts. The cabinet has a rounded front and original paint from the time it was made. The upper cabinet has a lock and key in working condition while the lower cabinet has never had a lock. The mid section has a very detailed trim with delicate swirls and fluted lines that bring lightness and intricate details to the cabinet.
The sides have flutes running the whole length of the cabinet, including the feet which is a sign of the thought behind the making of this piece. The cabinet has the typical marks of the gustavian period with restrained and intentional decor and elegant proportions. Standing tall and stately it will bring the aforementioned elegance and solidity to the space while still serving as a functional cabinet.
The cabinet is a genuine antique furniture from northern Sweden made during the late 1700s. The condition is good and the cabinet is an attractive model with appealing proportions. It has minor traces of use as well as the patina of time after almost 250 years. The lower cabinet is 108 cm tall. On the lower cabinet, the two sides facing the walls are both 58 cm, the upper cabinet is slightly smaller. Across the front the cabinet is 108 cm.
For more Case Pieces and Storage
Prisförfrågan objekt nr 1830 Tall Gustavian Corner Cabinet with Original Paint
Inquiry form for Tall Gustavian Corner Cabinet with Original Paint