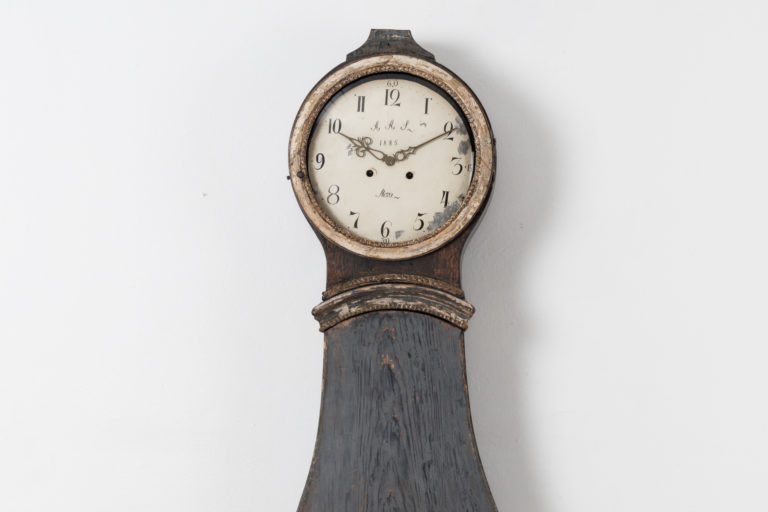 Swedish Rococo Longcase Clock with Original Paint
Art.nr: 1480
Height : 185 cm
Length : 53 cm
Width : 20 cm
Swedish rococo longcase clock from the late 18th century. The northern Swedish clock is pine with the scarped to original paint. The end of the skirt has a very nice typical rococo shape and transition to the feet. Hand carved wooden decor and original working lock and key on the door which is an unusual feature. The clock face has some loss of paint and there's a small piece of the door missing on the inside – see detail picture. The loss of material does not effect function or stability.
The clock face has the dating 1885 and the signature AAS Mora. The dating is most likely from when the clock changed owners, either by inheritance or trough purchase. AAS stands for Anders Andersson which is a joint signature for the craftsmen who have worked on the mechanism and its parts. The parts are made separately and are then assembled to a complete mechanism. So for example one craftsman would make the cogwheels, a second the axles and so on and the last would put it all together.
The clock comes with the original clock mechanism, weights and pendulum.
For more Clocks
Price inquiry item number 1480 Swedish Rococo Longcase Clock with Original Paint
Inquiry form for Swedish Rococo Longcase Clock with Original Paint