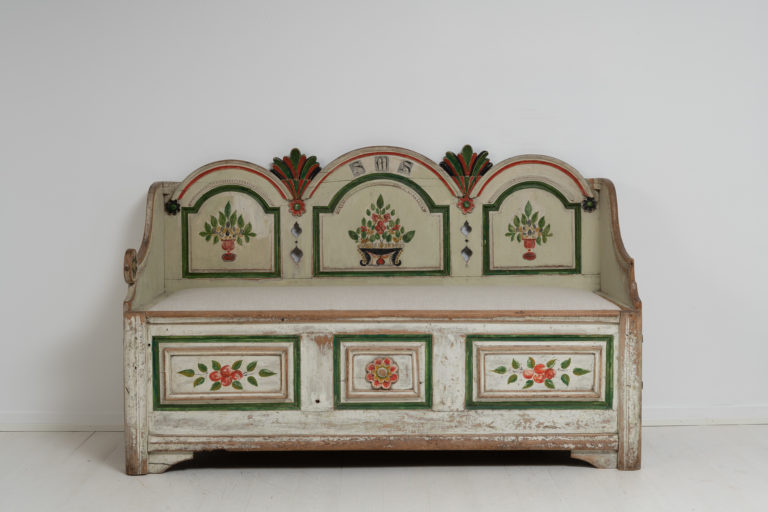 Unique One-Of-a-Kind Rococo Sofa from Vålådalen
Art.nr: 1722
Height : 109 / 53 cm
Length : 170 cm
Width : 62 cm
Unique one-of-a-kind rococo sofa from an old farm house in Vålådalen in Jämtland in Sweden. The village is located a couple of Scandinavian miles from Sweden's largest ski resort Åre. The sofa is rococo folk art and made during the late 1700s. Painted pine and the original paint with some small old touch ups.
The sofa is special in its shape with the three curved arches in the back and carved panels on both the back and front. The paint is expressive with detailed motifs in deep green and red colours on a neutral background and the hand carved wood decor is rich and meticulously made. This sofa is a standout piece. It is an authentic antique and will enrich any space it occupies.
The sofa has painted initials and hand carved wood decor. The round detail on one armrest is missing and has been since the 1800s. Healthy and stable with storage underneath the seat. The seat is later and upholstered in linen fabric.
For more Seating
Price inquiry item number 1722 Unique One-Of-a-Kind Rococo Sofa from Vålådalen
Inquiry form for Unique One-Of-a-Kind Rococo Sofa from Vålådalen