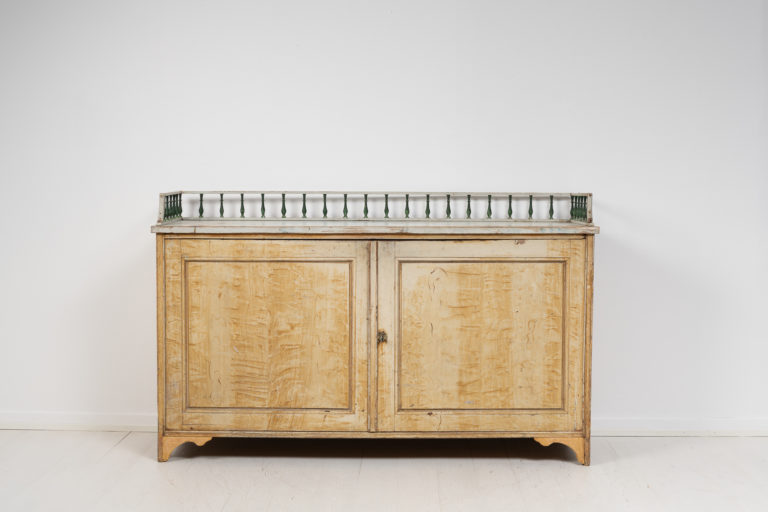 Wide and Low Gustavian Sideboard from Sweden
Art.nr: 1828
Height : 88+12 cm
Length : 161 cm
Width : 49 cm
Wide and low gustavian sideboard from northern Sweden. The sideboard is a gustavian country house furniture made around the year 1800. Measuring 161 cm wide and 88 cm tall to the table top this sideboard has unusual proportions for this type of furniture. The sideboard is made in painted pine and is in original condition with the original paint. The paint is so called faux paint which is used to imitate other materials, in this case birch with a marbled top. An added detail is the delicate balustrade that wraps around the back as well as the sides of this sideboard. Labour intense and decorative, it's further emphasised by the dark green paint.
The sideboard as a whole is an untouched gustavian furniture over 200 years old and there are some traces of use. The distress and patina are all genuine and tells the history of the sideboard. The model along with the balustrade and faux paint makes it an even more special and unique piece. And sideboards are one of the most classic and recognisable Swedish gustavian furnitures. One that never goes out of style.
The balustrade has some minor loss of material at the front – see pictures. The corner console by the foot and lower edge is a more recent addition from the late 1800s. The inside is wood bare and always has been. Original locks in working condition in addition to the original gustavian hardware. The sideboard measures 88 cm to the table top and the balustrade is another 12 cm.
For more Case Pieces and Storage
Price inquiry item number 1828 Wide and Low Gustavian Sideboard from Sweden
Inquiry form for Wide and Low Gustavian Sideboard from Sweden