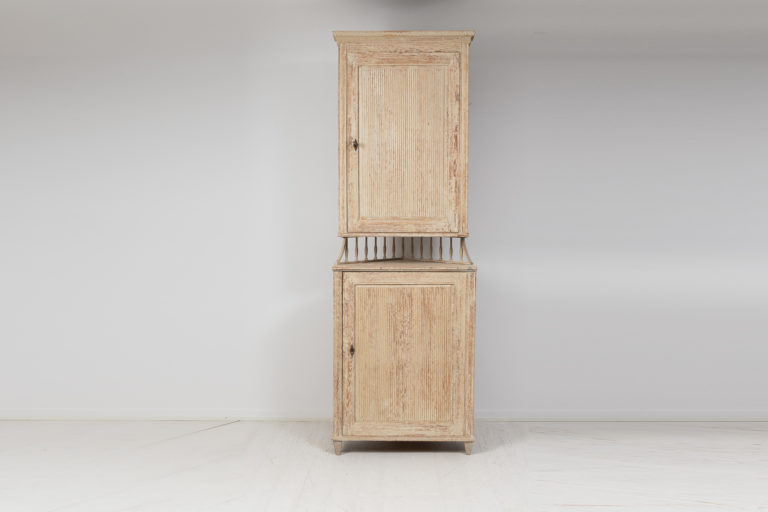 Antique Gustavian Corner Cabinet
Art.nr: 1969
Height : 240 / 223 cm
Length : 81 cm
Width : 58 cm
Antique gustavian corner cabinet from northern Sweden and the province Västerbotten. The cabinet is made during the last years of the 18th century, 1790 to 1800, and is in two parts. It is made in Swedish pine and has been dry scraped to the original paint from the 18th century. The pediment has a carved decor in the shape of leaves that's been made by hand in wood. The lower cabinet has a balustrade and marbled table top and both doors have fluted decor. Working locks and keys.
The cabinet can be used in multiple different ways. Just the lower cabinet, the lower with the upper cabinet, the lower cabinet with the upper standing on the balustrade. In case of the last one the upper would need to be attached to the wall behind it.
The lower cabinet is 108 cm high and the balustrade is 17 cm. The short sides facing the walls are both 58 cm and the cabinet is circa 81 cm across. The upper is 145 cm making the total height 223 or 240 cm excluding and including the balustrade respectively.
For more Case Pieces and Storage
Price inquiry item number 1969 Antique Gustavian Corner Cabinet
Inquiry form for Antique Gustavian Corner Cabinet