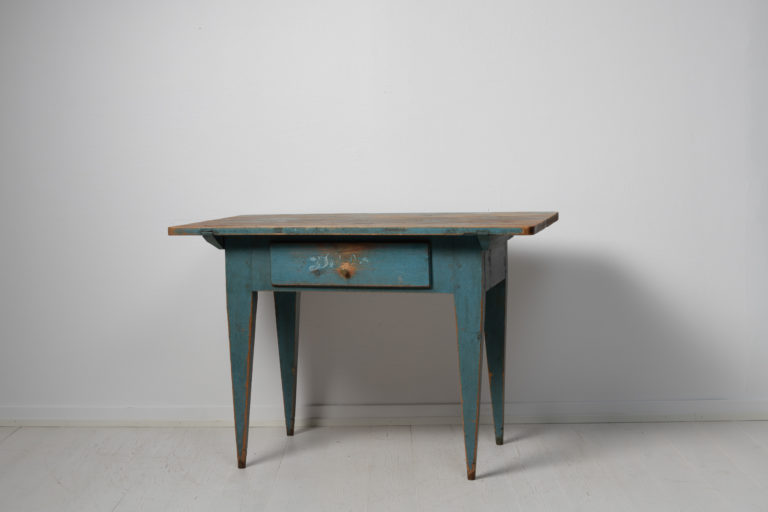 Unusual Swedish Country Table in Gustavian Style
Art.nr: 1873
Höjd : 75 / 55 cm
Längd : 110 cm
Bredd : 66 cm
Unusual Swedish country table in gustavian style. The table is a country house furniture from the early 1800s made in gustavian style. The period was known as gustavian in Sweden after the kings who ruled during the time but the style is similar to the more international neoclassic style from the same period.
The table is made in pine and has been left completely untouched for over 200 years. The condition is original with the original vivid blue paint with white details. It has authentic distress and patina after use which brings out the history and age of the table in the way only time can. It has traces of initials painted in white on the front of the drawer.
During the 18th and early 19th century the pigments used to make blue paint were very precious and therefore expensive. The very rich and vivid blue paint of this table indicates that the person or family who commissioned this table were very wealthy because the table would have been expensive to make. It is also made by hand and the craftsmanship is very high quality. That further corroborates that the table is very luxurious and unusual. The frame is solid and the table as a whole is stable.
For more Tables
Prisförfrågan objekt nr 1873 Unusual Swedish Country Table in Gustavian Style
Inquiry form for Unusual Swedish Country Table in Gustavian Style